Genetic differences in susceptibility to toxic exposure and its implications into the ecological risk assessment of chemicals
Amadeu Soares1 & Carlos Barata Martí2
1- CESAM (Centre for Environmental and Marine Studies) & Department of Biology
University of Aveiro, Portugal
2- Laboratory of Environmental Toxicology, INTEXTER –Polytechnic University of Cataluña, Barcelona, Spain
1991 was the year of publication of the first scientific paper specifically addressing the question of genetic variability in Daphnia magna and its implications for ecotoxicological testing. From then onwards, several years of research studying genetic differences in susceptibility to toxic exposure and its implications into ecological risk estimates resulted in a number of SCI papers, in particular those that resulted from the collaboration with Carlos Barata, a former CESAM pos-doctoral researcher, now in Barcelona, at the Polytechnic University of Cataluña. Firstly we studied genetic and environmental factors affecting toxic responses of laboratory populations. Recently, the use of ephippial egg banks of Daphnia magna allowed us to gauge population responses of outbreed populations to toxic chemicals.
<![if !vml]>

<![endif]>
Figure 1. Hypothesis tested regarding variability in tolerance in field and laboratory populations of Daphnia magna and its wider implications for the Ecological Risk Assessment process.
Relevant data on life-history responses of field populations of D. magna across toxicant concentrations suggest that laboratory selection will favor individuals with high fitness or reproductive performance under optimal laboratory conditions, resulting in laboratory populations with similar tolerance to toxic stress than their original field populations. Nevertheless, given that field populations exhibited high levels of within population variability in tolerance to toxic stress, minimizing genetic diversity in toxicity tests will increase the uncertainty attendant in extrapolating from the lab to the field.
<![if !vml]>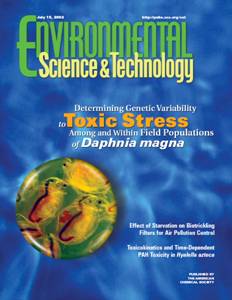 <![endif]>
New information about the true genetic range of sensitivities to toxic stress of field populations was also provided, as well as a novel approach to assess and incorporate this genetic uncertainty into risk estimates. By using ephippial eggs of Daphnia magna originated from different habitats and the Daphnia reproduction toxicity test, we showed that it was possible to assess the distribution of tolerances of outbreed populations. We are convinced that studies of this kind on a range of other species can help us to improve ecological risk estimates of new and existing toxic chemicals. By measuring the susceptibility range of "natural" populations to toxic chemicals, it would be possible to assess by how much ecological risk estimates performed with laboratory populations underestimate the response of genetically diverse wild populations. More specifically we found that extrapolation approaches currently used in ecological risk assessment are not under protective.
Selected Publications:
1. Baird D.J., Barber I., Bradley M., Soares A.M.V.M. and Calow P. (1991) Ecotox. Environ. Safe., 21: 257-265.
2. Soares A.M.V.M., Baird D.J. and Calow P. (1992) Environmental Toxicology and Chemistry, 11: 1477-1483.
3. Barata C., Baird D.J., Amat F. and Soares A.M.V.M. (2000) Functional Ecology, 14: 513-523.
4. Barata C., Baird D.J., Miñarro A. and Soares A.M.V.M. (2000) Environmental Toxicology and Chemistry, 19: 2314-2322.
5. Barata C., Baird D.J., Soares A.M.V.M. and Guilhermino L. (2001) Ecotoxicology and Environmental Safety. 49: 155-163.
6. Barata C., Baird D.J. and Soares A.M.V.M. (2001) Oecologia, 129: 220-227.
7. Barata C., Baird D.J., Mitchell S.E. and Soares A.M.V.M. (2002) Environmental Toxicology and Chemistry, 21: 1058-1064.
8. Barata C., Baird D.J., and Soares A.M.V.M. (2002) Environmental Science & Technology, 36: 3045-3049.
<![if !vml]>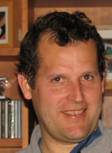 <![endif]>
Carlos Barata (born 1965) got his Ph.D. in 1994 from the Instituto de Acuicultura Torre de la Sal, Consejo Superior de Investigaciones Científicas, Spain, working on quantitative genetic responses of different strains and species of the brine shrimp Artemia From 1995 till 2001 he conducted his Post-Doctoral research at the Department of Ecotoxicology, Environmental Group, Institute of Aquaculture, University of Stirling, Scotland, UK, and at CESAM and Departamento de Biologia, Universidade de Aveiro (CESAM). From 2001 tilll 2006 he was an Associate Researcher in the Department of Environmental Chemistry, IIQAB-CSIC and the Politechnic University of Cataluny. At present he was appointed a senior researcher at the Department of Environmental Chemistry, IIQAB, Consejo Superior de Investigaciones Científicas (CSIC), Spain. His main research interests are related to aquatic ecotoxicology. In particular he has been actively involved in the study of genetic variation in toxic responses to pollutants within aquatic populations and its consequences in ecological risk assessment procedures. Furthermore, his previous experience in ecology and physiology of invertebrate species has allowed him to develop highly innovative and yet cost-effective bio-monitoring methods and approaches with several invertebrate species to monitor biological effects of single and mixtures of contaminants. These procedures are now in use in a number of laboratories internationally, and have been presented in up to 42 communications in international conferences, 44 scientific papers published in specialized international SCI journals with referees; and 1 book chapter. He has been a member of several Scientific Committees (i.e. CICTA, SETAC, AEL) and is a current referee of up to 20 different SCI journals in the field of ecology, biochemistry and environmental toxicology.
<![if !vml]>

<![endif]>Amadeu Soares (born 1961) got his Ph.D. in 1989 from the Department of Animal & Plant Sciences, University of Sheffield, UK, working on the ecotoxicological implications of clonal variation of Daphnia magna .From May 1990 till April 200 he was assistant professor and associate professor at the Department of Zoology, Coimbra University, Portugal. He has been in Aveiro in the Biology Department since April 2000, as associate professor, and in 2004 was promoted to Full Professor of Biology. At present he is the Head of Department of the Biology Department and Deputy Director of CESAM. He is a former President of SETAC-Europe (Society of Environmental Toxicology and Chemistry-Europe). His main research interests are related to Ecotoxicology, both terrestrial and aquatic, in particular with aspects dealing with the use and validation of in-situ bioassays, in both temperate and tropical conditions; genetic variability in stress tolerance is also another field of interest within ecotoxicology. Recently, the implications of climate changes to the tolerance of stress and methods to assess ecotoxicity of mixtures and ecotoxicogenomics are recently developed research interests. Although not as strong as with ecotoxicology, issues related with biodiversity and wildlife management, in both temperate and tropical regions, are other research fields of interest. Amadeu Soares published (or has in press) over 130 SCI papers, with more than 1000 citations. He has been a member of several European Commission Scientific Committees (i.e. EFSA, CSTEE, ECVAM). In 2004 he was one of the 73 Portuguese scientists, and the only one from the Ecology field, to receive the Ministry of Science and Technology / Portuguese Science Foundation prize for Scientific Excellence.