The Use of Bioassays to Assess Real Scenarios of Soil Contamination
Susana Loureiro & Amadeu Soares
CESAM (Centre for Environmental and Marine Studies) & Department of Biology
University of Aveiro, Portugal
In the beginning of this century (2000-2005) we have published several studies on the use of bioassays to assess the potential contamination of soils from real scenarios (Loureiro et al., 2005b; Loureiro et al., 2005a; Loureiro et al., 2006). The latter, from 2006 (Archives of Environmental Contamination and Toxicology, 50, 182-190), reported the study on the toxicity assessment of two Soils from Jales Mine (Portugal) using plants. Usually bioassays with plants are carried out using hydroponic solutions or laboratory contaminated soil (e.g.Azevedo et al., 2005). The knowledge of plant biochemical processes and their responses to environmental stressors were transposed to real scenario conditions, i.e. using plants grown in naturally contaminated soils. The quality / toxicity of two soils from an abandoned mine located in the northeast of Portugal, Mina de Jales (Vila Pouca de Aguiar), was evaluated, using plant bioassays with Rapid Cycle Brassica rapa L. (RCBr) and Avena sativa following standardized protocols (ISO, 1995). Seedling germination and growth tests, regularly included in test-batteries during remediation processes were carried out to monitor the toxicity of contaminated soils. Additionally, enzymatic bioassays that have been previously developed for measuring biochemical responses/adaptations, usually under controlled conditions, were adapted to this real scenario situation, and their effectiveness as biomarkers under these conditions was assessed. Soils were collected from two distinct areas: 1) one located near the mine spoil, and surrounded by agriculture and pasture fields; this soil was characterized by its high heavy metal concentrations; 2) the second chosen area was located 3 km from the mine spoil and was mainly used as cow and horse pasture; the soil collected from this area contained lower heavy metal concentrations relative to the other soil. The two soils are classified as silt loam soils.
<![if !vml]>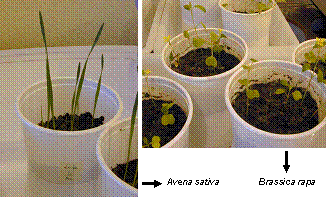 <![endif]>

<![if !mso]>

<![endif]>

Figure 1. Photographs from the plants Avena sativa and Brassica rapa during the exposure to soils collected from Mina de Jales.

<![if !mso]>

<![endif]>

Both soils exposures showed no toxic effects to the oat A. sativa. On the other hand, it was observed significant differences between plants of B. rapa exposed to both soils. Plants of B. rapa exposed to the soil characterized with high heavy metal concentrations showed no differences on growth or reproductive traits when compared to the control soil. In contrast, plants of B. rapa exposed to the low heavy metal content soil showed brownish color and small growth rates. Biochemical responses were also observed in these plants. One of these responses was a decrease on the protein content of leaves and shoots related to the growth deficiency. Biochemical responses also helped us to understand the cause for the phenotypic changes due to toxicity. Free radicals from heavy metal exposure caused an increase of the MDA content, indicating oxidative membrane damage and fragmentation of fatty acids. It was also observed a decrease on the peroxidase and catalase activities. These two last enzymes are considered scavengers for H2O2 (a reactive oxygen species) that are formed throughout heavy metal exposures, transforming H2O2 into water.

These results show that although chemical analysis showed us that one of the soils had small heavy metal contents, its toxicity was significant to plants, meaning a high bioavailability of the metallic elements. On the other hand, the soil that was expected to be toxic (with high heavy metal content) shown low or no toxicity, meaning that although with high concentrations of metals, those were not bioavailable. Thus, the importance of using bioassays in the toxicity evaluation of contaminated soils, complementing chemical analysis, and as a fundamental tool for decision-makers in their approaches towards remediation or human health protection.

1. Azevedo H., Gomes C., Pinto G., Fernandes J., Loureiro S., Santos C. (2005) Cadmium effects on sunflower growth and photosynthesis. Journal of Plant Nutrition, 28: 2211-2220.

2. ISO. (1995) Soil Quality- Determination of the effects of pollutants on soil flora- Part 2: Effects of chemicals on the emergence of higher plants. ISO 11269-2. ISO- The International Organization for Standardization, Genève, pp 7.

3. Loureiro S., Soares A.M.V.M., Nogueira A.J.A. (2005a) Terrestrial avoidance behaviour tests as screening tool to assess soil contamination. Environ Pollut, 138: 121-131.

4. Loureiro S., Ferreira A.L.G., Soares A.M.V.M., Nogueira A.J.A. (2005b) Evaluation of the Toxicity of Two Soils from Jales mine (Portugal) Using Aquatic Bioassays. Chemosphere, 61: 168-177.

5. Loureiro S., Santos C., Pinto G., Costa A., Monteiro M., Nogueira A.J.A, Soares A.M.V.M. (2006) Toxicity Assessment of Two Soils from Jales Mine (Portugal) Using Plants: Growth and Biochemical Parameters. Arch Environ Contam Toxicol, 50: 182–190.

<![if !vml]>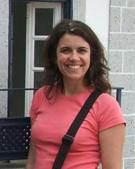 <![endif]>Susana Loureiro (born 1975) started her research activity in 1996, at the University of Coimbra. There she got her MSc on Ecology in 2000, studying the bioaccumulation of the pesticide lindane in a terrestrial isopod species. In 2004, she got her PhD at the University of Aveiro, on the ecotoxicity assessment of soils, with the case study of the surroundings of an abandoned mine in Portugal, using a test battery which included bioassays with plants and edaphic invertebrates. At present she is an Assistant Researcher at CESAM. Her present interests are mixture toxicity of chemicals and the effects of combined natural stressors with chemicals on aquatic and edaphic species. Another promising research area that she is involved in is toxicogenomics using Daphnia magna and Danio rerio in the evaluation of aquatic impairment.
Susana Loureiro has published, since 1998, 12 SCI papers and one book chapter; she was the Guest editor of a special issue of the European Journal of Soil Biology, vol41(3-4), a collation of selected and peer reviewed papers from the "6th International Symposium on the Biology of Terrestrial Isopods", held in Aveiro, Portugal. Susana Loureiro has been collaborating in several European projects on Ecotoxicology and Environmental Risk Assessment.
<![if !vml]>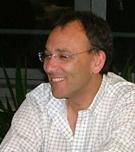 <![endif]>Amadeu Soares (born 1961) got his Ph.D. in 1989 from the Department of Animal & Plant Sciences, University of Sheffield, UK, working on the ecotoxicological implications of clonal variation of Daphnia magna .From May 1990 till April 200 he was assistant professor and associate professor at the Department of Zoology, Coimbra University, Portugal. He has been in Aveiro in the Biology Department since April 2000, as associate professor, and in 2004 was promoted to Full Professor of Biology. At present he is the Head of Department of the Biology Department and Deputy Director of CESAM. He is a former President of SETAC-Europe (Society of Environmental Toxicology and Chemistry-Europe). His main research interests are related to Ecotoxicology, both terrestrial and aquatic, in particular with aspects dealing with the use and validation of in-situ bioassays, in both temperate and tropical conditions; genetic variability in stress tolerance is also another field of interest within ecotoxicology. Recently, the implications of climate changes to the tolerance of stress and methods to assess ecotoxicity of mixtures and ecotoxicogenomics are recently developed research interests. Although not as strong as with ecotoxicology, issues related with biodiversity and wildlife management, in both temperate and tropical regions, are other research fields of interest.
Amadeu Soares published (or has in press) over 130 SCI papers, with more than 1000 citations. He has been a member of several European Commission Scientific Committees (i.e. EFSA, CSTEE, ECVAM). In 2004 he was one of the 73 Portuguese scientists, and the only one from the Ecology field, to received the Ministry of Science and Technology / Portuguese Science Foundation prize for Scientific Excellence.