Particulate air pollution exposure in urban areas
Carlos Borrego & Ana Isabel Miranda
CESAM
(Centre for Environmental and Marine Studies)
& Department of Environment and Planning
University of Aveiro, Portugal
In the last years, there has been an increase of scientific studies confirming that long- and short-term exposure to particulate matter (PM) air pollution leads to adverse health effects. According to the World Health Organisation approximately three million deaths per year in the world are associated to exposure to particulate matter.
Exposure estimates to atmospheric pollutants can address individuals (personal exposure) or large population groups (population exposure), and can be based on direct (exposure monitoring) or indirect methods (exposure modelling). A methodology was developed for the determination of accumulated human exposure in urban areas, combining information on concentrations at different microenvironments and population time-activity pattern data. A link between a mesoscale meteorological and dispersion model and a local scale air quality model was developed to define the boundary conditions for the local scale application, which provided the spatial distribution of outdoor air concentrations. Figure 1 illustrates the adopted methodology.
<![if !vml]>

<![endif]>
Figure 1. Diagram of the applied methodology.
The time-activity pattern of the population was derived from statistical information for different sub-population groups and linked to digital city maps. Finally, the hourly PM10 concentrations for indoor and outdoor microenvironments were estimated for the Lisbon city centre, which was chosen as the case-study, based on the local scale air quality model application for a selected period.
An Accumulated Population Exposure Index (APEI) is proposed in order to estimate the number of persons exposed to PM10 concentrations above a specific concentration level.
The APEI index is defined as the daily accumulated exposure over the pollutant concentration threshold and weighted by the number of inhabitants exposed. Therefore, is calculated as a sum of the positive differences between the hourly mean PM10 concentration and a threshold, multiplied by the number of inhabitants exposed, and then integrated over 24 hours. In the current work the 50 mg.m-3 threshold value for PM10 is considered. Figure 2 presents the spatial distribution of APEI50 for the chosen simulation day. The highest values of APEI50 correspond to schools and universities microenvironment and to buildings in the vicinity of roads.
<![if !vml]>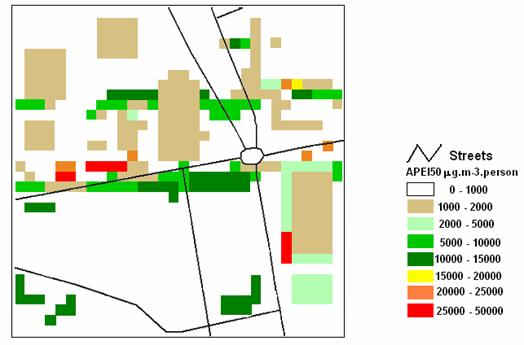 <![endif]>
Figure 2. Spatial distribution of the Accumulated Population Exposure Index (APEI50) in (mgm_3 person hour) for the 28th of February.
This methodology is a first approach to estimate population exposure, calculated as the total daily values above the thresholds recommended for long- and short-term health effects. It can be seen as a useful tool for population exposure studies, especially when exposure monitoring is not applicable and/or air quality monitoring data are not representative for the area of interest. Moreover, this methodology can be applied to other pollutants if the outdoor/indoor relations are known.
Selected Publications:
1. Borrego, C., Tchepel, O., Costa, A.M., Martins, H., Ferreira, J. and Miranda, A.I. (2006) Traffic-related particulate air pollution exposure in urban areas. Atmospheric Environment, 40: 7205-7214.
2. Borrego, C.; Martins, H.; Tchepel, O.; Salmim, L.; Monteiro, A. and Miranda, A.I. (2006) How urban structure can affect city sustainability from an air quality perspective. Journal of Environmental Modeling and Software, 21: 461-467.
3. Borrego, C.; Tchepel, O.; Costa, A.M.; Amorim, J.H. and Miranda, A. I. (2003) Emission and dispersion modelling of Lisbon air quality at local scale. Atmospheric Environment, 37: 5197-5205.
4. Borrego, C.; Tchepel, O.; Monteiro, A.; Miranda, A.I. and Barros, N. (2002) Influence of traffic emissions estimation variability on urban air quality modelling. Water, Air and Soil Pollution: Focus 2: 487-499.
<![if !vml]>

<![endif]>Carlos Borrego has a background of Mechanical Engineer from Technical University of Lisbon and PhD from Free University of Brussels. He is Coordinating the Group of Emissions, Modelling and Climate Change-GEMAC and President of Department of Environment and Planning (University of Aveiro), where is Full professor. Main research interests on atmospheric pollution and air quality modelling.