The Influence of Mercury in Coastal Trophic Webs: a novel view based on a long term approach
Mª Eduarda Pereira & Armando Duarte
CESAM (Centre for Environmental and Marine Studies) & Department of Chemistry
University of Aveiro, Portugal
The research Group on Analytical and Environmental Chemistry has developed several studies concerning the distribution of mercury (Hg) in different environmental compartments using a Portuguese coastal lagoon (Ria de Aveiro) as a case study1,2. All the knowledge gathered in collaboration with other institutions, namely Institute of Marine Research (IMAR), University of Coimbra, allowed the development of comprehensive field surveys involving the characterization of biota responses to an anthropogenically induced mercury contamination gradient. For instance, mercury bioaccumulation in common estuarine macroalgae (Enteromorpha intestinalis, Gracilaria verrucosa and Fucus vesiculosus3 and also in economically important faunal species of Ria de Aveiro such as Scrobicularia plana4 and Carcinus maenas5.
The effect of mercury in estuarine trophic webs due to bioaccumulation and bioamplification processes is not yet fully understood. The traditional approach to study mercury accumulation through trophic webs considers the performance of laboratory experiments under controlled conditions and for different metal concentrations in order to obtain information for metal accumulation at specific trophic levels. However, environmental variability is not taken into account, not to mention the entire trophic chain. Therefore, in situ studies have advantages over those developed under controlled conditions with limited environmental variability and low degree of trophic interactions complexity.
Ria de Aveiro is a coastal lagoon system with inputs from wastewaters and runoffs from a plethora of anthropogenic activities. Namely, during four decades, Ria de Aveiro has been subjected to an effluent rich in mercury from a chlor-alkali industry in one of the remotest branches of the lagoon (Esteiro de Estarreja) that ends in a bay (Largo do Laranjo) used for fisheries activities. Restoring and sustaining good ecological status of this ecosystem is the baseline for sustainability of economical and social important uses and services in the area.
Although water and surface sediment mercury concentrations are presently below legal limits, a considerable amount of mercury still is accumulated in sediments of the areas near the industrial metal source (Largo do Laranjo, 25 tons1), most of it associated to organic matter, iron oxyhydroxides and sulphides2. However, an estimate of the seasonal and inter-tidal variability of the fluxes of dissolved and particulate mercury showed that the export of mercury (in dissolved and particulate fractions) makes little impact on the nearshore region of the Atlantic Ocean6 (Figure 1).
<![if !vml]>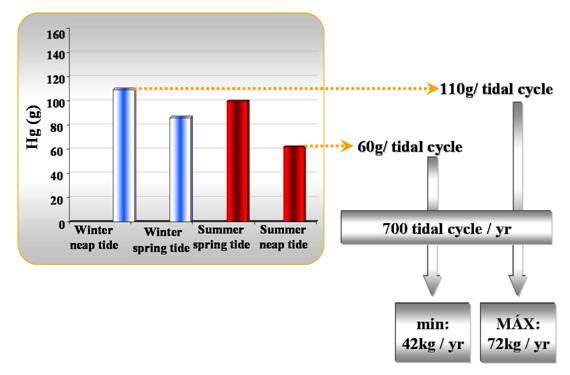 <![endif]>
Figure 1. Estimated mass balance of mercury from Ria de Aveiro to Atlantic Ocean in winter neap tide, winter spring tide, summer spring tide and summer neap tide
The response of organisms to the mercury gradient in Ria de Aveiro was assessed by measuring the total and organic Hg levels in the dominant estuarine macroalgae (Enteromorpha, Fucus and Gracilaria, Scrobicularia and Carcinus), and using the Mondego estuary as a reference site. As a whole, organic Hg never exceeded 15% of total Hg content, but it showed an increase with distance to metal source indicating complex physiological responses in areas of high and low Hg concentrations4 (Figure 2).
<![if !vml]>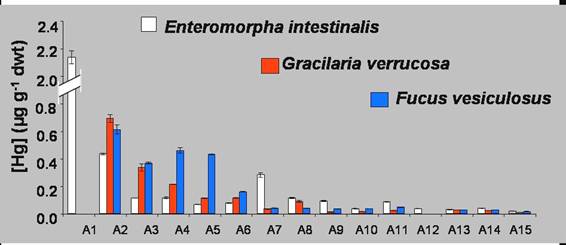 <![endif]>
Figure 2. Total mercury concentrations (μg g−1 dwt) in Enteromorpha intestinalis, Gracilaria verrucosa and Fucus vesiculosus in the Ria de Aveiro (A1 to A14; A15 is the reference site in Mondego estuary) 4
Usually, the whole ecological significance of Hg enrichment can be difficult to determine because important aspects of metal cycling are not fully understood. Thus, Ria de Aveiro can be seen as a natural laboratory for biogeochemical studies of anthropogenic Hg accumulated in the sediments, and its transfer to other environmental compartments.
Studies currently under development include a better understanding of: 1) processes of mercury bioaccumulation in contaminated areas of the estuarine systems; 2) the effect of the macrobenthic fauna on mercury fluxes from estuarine sediment; 3) the effect of macrophytes on mercury fluxes from estuarine sediment; 4) the toxicokinetics and toxicodynamics of mercury in fish; 5) the effect of mercury on the salt marsh community structure and biodiversity based on a long term data set; and 6) potential of the salt marsh environment for phyto-remediation of mercury contaminated sediments.
Other researchers involved in this work: Pedro Pato Martins, Mónica Válega, Pedro Coelho, Sónia Rodrigues, Ana Isabel Lillebo Baptista, Claúdia Lopes and Miguel Pardal from IMAR (Coimbra).
Selected publications:
1. Pereira M.E., Duarte A.C. , Millward G.E., Abreu S.N. and Vale C. (1998) Water Science and Technology, 37: 125-130.
2. Ramalhosa E., Segade S.R., Pereira E., Vale C. and Duarte A.C. (2006) Water Research, 40: 2893-2900.
3. Coelho J.P., Pereira, M.E., Duarte A.C. and Pardal M.A. (2005) Estuarine, Coastal and Shelf Science, 65: 492-500.
4. Coelho J.P., Rosa M., Pereira M. E., Duarte A.C. and Pardal M.A. (2006) Estuarine Coastal and Shelf Science, 69: 629 - 635.
5. Pereira M.E., Abreu S.N., Coelho J.P., Lopes C.B., Pardal M.A., Vale C. and Duarte A.C. (2006) Marine Pollution Bulletin, 52 (11): 1450-1457.
6. Pato P., Válega M., Pereira M.E., Vale, C. and Duarte A.C., (2006) Journal of Coastal Research (in press).
<![if !vml]>
<![endif]>Eduarda Pereira was born in 1961, obtained a degree in Ceramic and Glass Engineering (1986) and a PhD in Chemistry (1997) both at the University of Aveiro. She has over 10 years of internationally recognised experience on environmental quality assessment and implemented one of the most well-known laboratories in Europe for mercury analysis in various environmental matrices, which has been successfully involved in various inter-laboratorial studies. She is currently coordinating the work of several PhD students, allowing for the development of scientific and technological knowledge of excellence on mercury-related issues. She has been involved in several Portuguese and European projects and published over 35 SCI research papers.
<![if !vml]>

<![endif]>Armando Duarte was born in 1952, obtained a degree in Chemical Engineering at the University of Oporto (1976) and a PhD in Public Health Engineering at the University of Newcastle upon Tyne (1981). He has over 20 years of internationally recognised experience on environmental quality studies from the point of view of an analytical and environmental chemist (author of over 100 SCI papers with more than 500 citations). He integrated several relevant Portuguese and European research projects, such as "MORENA" (1993-1996), "BIOGEST" (1996-1999), "URBSOIL" (2002-2005) and "SWIFT-WFD - Screening methods for water data Information in support of the implementation of the Water Framework Directive" (2004-2006). In 2006, he was awarded the Portuguese Science Foundation prize for Scientific Excellence.