Defective protein synthesis is an unexpected generator of phenotypic diversity and a novel speciation mechanism
Raquel Silva, Isabel Miranda, João Paredes, Ana Catarina Gomes, Rita Rocha, Denisa Mateus & Manuel A. S. Santos
CESAM
(Centre for Environmental and Marine Studies)
& Department of Biology
University of Aveiro, Portugal
One of our research lines focuses on how eukaryotic organisms synthesize proteins and how cells cope with aberrant protein synthesis, which occurs when cells loose control of mRNA translation accuracy (mistranslation). This is biologically relevant because proteins synthesis fidelity is critical to maintain proper cell functioning and it is strongly affected by environmental stress, aging and also by antibiotics and cell degeneration processes associated to tumour development.
<![if !vml]>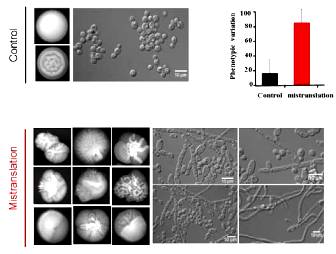 <![endif]>

Figure 1. mRNA mistranslation generates phenotypic diversity due to synthesis of aberrant proteins.
During the last 5 years, we have used two yeasts as eukaryotic model systems, namely Saccharomyces cerevisiae and Candida albicans, to understand the biology of mRNA mistranslation. We used genetic engineering technologies to disrupt mRNA translation fidelity in these yeasts and used a number of molecular biological methodologies to elucidate the impact of mRNA mistranslation on physiology, cell biology and evolutionary processes. Remarkably, mistranslation blocked sexual reproduction, generated extensive morphological variation and induced a general stress response and created cells resistant to a number of environmental stress agents, namely high temperature, drugs, antibiotics and heavy metals.
These results indicate that loss of mRNA translation fidelity has important consequences and that we do not yet fully comprehend the biology of this important biological phenomenon. In particular, we still do not understand how organisms with defective protein synthesis become tolerant to environmental stress, how and why it affects sexual reproduction and why it exposes hidden phenotypic variation. We are now taking these studies one step further by using highly sophisticated functional genomics and DNA-chip technology to obtain a complete picture of the cellular response to aberrant protein synthesis. We are also very interested in understanding how environmental change affects protein synthesis fidelity, in particular to elucidate the unexpected link between environmental variation, protein synthesis fidelity and phenotypic variation. A critical question is whether morphological variation associated to environmental change is a direct result of decreased protein synthesis fidelity.
<![if !vml]>
<![endif]>

Figure 2. mRNA mistranslation induces tolerance to environmental stressors (lanes 1 and 2).
Selected publipcations:
1. Silva RM, Paredes JA, Moura GR, Manadas B, Lima-Costa T, Rocha R, Miranda I, Gomes AC, Koerkamp MJ, Perrot M, Holstege FC, Boucherie H, Santos MA., (2007) "Critical roles for a genetic code alteration in the evolution of the genus Candida", EMBO Journal 26:4555-4565.
2. Gomes AC, Miranda I, Silva RM, Moura GR, Thomas B, Akoulitchev A, Santos MA., (2007) "A genetic code alteration generates a proteome of high diversity in the human pathogen Candida albicans.", Genome Biology 8:R206.
3. Miranda I, Rocha R, Santos MC, Mateus DD, Moura GR, Carreto  L, Santos  MA., (2007) "A Genetic Code Alteration Is a Phenotype Diversity Generator in the Human Pathogen Candida albicans.", PLoS ONE, 2(10):e996.
Who did the work:
<![if !vml]>

<![endif]>