A multi-biomarker approach for freshwater wetland pollution monitoring - an application to Pateira de Fermentelos (Portugal)
Maria Ana Santos, Mário Pacheco, Iqbal Ahmad Vera Lúcia Maria & Mariana Teles
CESAM
(Centre for Environmental and Marine Studies)
& Department of Biology
University of Aveiro, Portugal
Artificial lakes such as dams where still waters are found, due to their specific configuration and water dynamics, are more prone to receive and accumulate anthropogenic discharges resulting from domestic, municipal and industrial effluents as well as agriculture runoff. Hence, organisms synergistic/antagonistic responses to a mixture of contaminants are hardly interpreted and predicted exclusively by chemical analysis of those contaminants. In this context, the use of biomarkers has been demonstrated to be a suitable alternative for monitoring and management of these aquatic ecosystems. Pateira de Fermentelos (Portugal) is an important fishing and recreation place, receiving effluents from different origins namely, electroplating industrial effluents containing heavy metals, domestic wastes, as well as pesticides and fertilizers from agriculture activities. In this perspective, our research group carried out an in situ study along this impacted freshwater wetland where  adult eels (Anguilla anguilla L.) were caged and plunged for 48 h at different sites (Figure 1 - A, B, C, D) differing in their distances to the main known pollution source (Cértima River). Thus, three sets of biomarkers concerning (i) genotoxicity, (ii) oxidative stress responses and (iii) endocrine alterations were adopted.
<![if !vml]>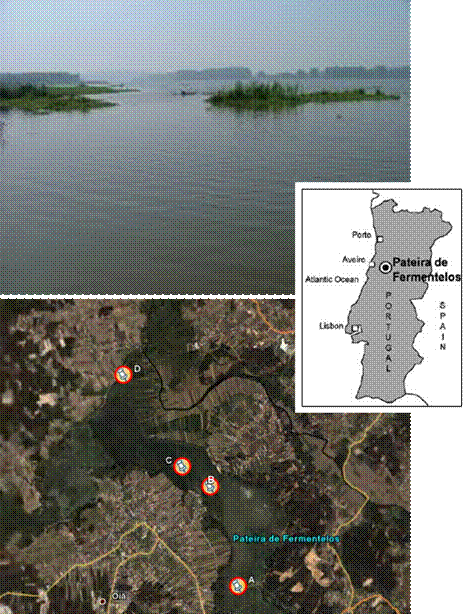 <![endif]>
                                                                                             
Figure 1.
The presence of pro and/or genotoxic compounds was detected as expressed in the DNA integrity loss induced in different target tissues (gill, blood and liver), displaying a decreasing genotoxic gradient from the initial to the ending part of the water body.
The activation of antioxidant enzymes (as observed in gill) as well as their inhibition (as observed in kidney and liver) provided a clear indication of pollution presence and environmental health degradation. All the organs revealed a similar resistance to peroxidative damage (LPO), suggesting that the antioxidants are more responsive biomarkers than LPO for short-term exposures.
Endocrine and metabolic biomarkers revealed increased plasma cortisol and glucose concentrations at all exposure sites, signalling the presence of stressors. Thyroid metabolism disruption was detected at the closest site to the main pollution source. In addition, the eel's plasma 17β-estradiol increase was observed indicating water contamination by this particular steroid.
Despite the complexity of fish overall responses to mixtures of contaminants, the assessed biomarkers were able to express site-specific responses, demonstrating their ability to detect the presence of a wide range of chemicals. A. anguilla in situ trial proved its high ability for freshwater monitoring, contributing to a better knowledge of fish toxicological responses to mixtures of contaminants. Moreover, the monitoring efficacy can be greatly improved by using batteries of non-specific biomarkers comprising different biological levels.
Selected publications:
[1] Maria, V.L., Pacheco, M. and Santos, M.A. 2006. Anguilla anguilla L. genotoxic responses after in situ exposure to freshwater wetland (Pateira de Fermentelos, Portugal). Environment International 32(4): 510-515.
[2] Ahmad, I., Pacheco, M. and Santos, M.A. 2006. Anguilla anguilla L. oxidative stress biomarkers: an in situ study of freshwater wetland ecosystem (Pateira de Fermentelos, Portugal). Chemosphere 65(6): 952-962.
[3] Teles, M., Pacheco, M. and Santos, M.A. 2007. Endocrine and metabolic responses of Anguilla anguilla L. caged in a freshwater-wetland (Pateira de Fermentelos - Portugal). The Science of the Total Environment 372(2-3): 562-570.
Research Team:
Maria Ana Santos, Full Professor at the University of Aveiro, Department of Biology
Mário Pacheco, Assistant Professor at the University of Aveiro, Department of Biology
Iqbal Ahmad, Post-doctorate Fellow
Vera Lúcia Maria, Post-doctorate Fellow
Mariana Teles, Post-doctorate Fellow